Cat Boarding Accommodations
Visit with our incredible NEST-sitters and Concierge Caregivers to learn how we can create a personalized experience your San Antonio cat will enjoy while they are boarding with us. With posh, glass-enclosed and light-filled, airy surroundings in the upper level of our resort grounds, your cat will feel tranquil in our NEST while tucked into their own special snuggery. When your kitty wants to stretch their legs or lounge a bit, a special playtime in our handcrafted and curated cat playroom is a perfect respite for your feline friend.
NEST Service Offerings for Cats
Cat Day Boarding
For cats that just need a day out of the house to relax or day board.
Overnight Cat Boarding
Cats nest in a private NESTominium (our version of cat boarding) in Kitty Arbor, a light-filled neighborhood designed for tranquility and peace of mind for our cat guests. This space is entirely enclosed and separate from noisy NESTers. We are proud to follow the guidelines of the American Association of Feline Practitioners (AAFP) Certified Cat Friendly Practices, including utilizing Feliway pheromone plug ins to ease stress.
Enhancements Available for Retreat Stays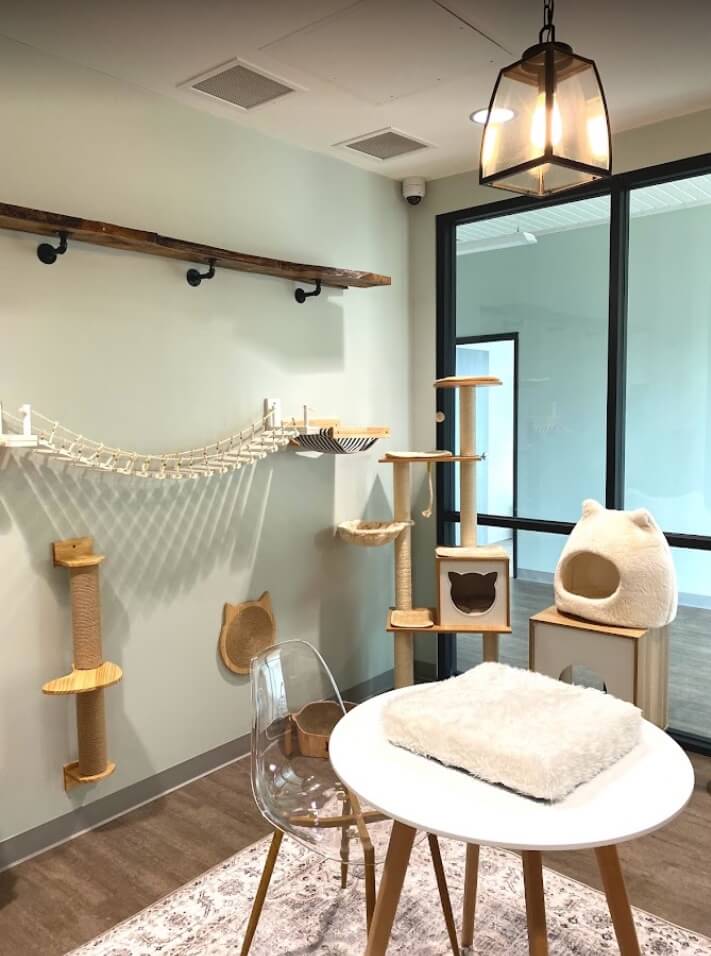 Playroom Times
Bedtime Tuck-In and Story
Massage
Cuddle Time
Pamper Brushing
Minibar Treat Assortment
Puzzle Toy
Private Dinner Date
CBD Bedtime Treat
Luxury Bedding Enhancement
Mid-Stay Updates, Includes: Video, Additional Daily Text Photos
*Medication Administration (Over Two Included Administrations), Injectable Medication Administration
Qualifications & Necessities
All cats must have proof of the following in order to board with us:

Negative FeLv/FIV test
Rabies vaccination
FVRCP vaccination

FeLv positive cats will be unable to access the playroom
Cats must be free of external parasites. If parasites are observed on your cat, parasite preventative will be prescribed from the veterinary practice with which we consult in order to eliminate the parasites, make your kitty more comfortable and prevent facility infestation
All cats must be spayed or neutered by 6 months of age to board with us
Bring medications for your cat in original labelled containers
Bring your kitty's food prebagged by portion for each meal to prevent upset gastric systems ***No Raw Food Will Be Fed During Pet's Stay at The Retreat for Everyone's Safety***
Please do not bring bedding or dishes for your cat. These are provided for your cat and will be cleaned regularly
For information on prerequisite forms, click here.