Dog Boarding
Visit with our incredible NESTsitters and Concierge Caregivers and learn how we create a personalized experience your San Antonio dog, leaving them wanting to return to the NEST for dog boarding to time and time again. With posh, glass-enclosed and light-filled, airy surroundings, your dog will feel a sense of serenity as they board in their NEST, tucked in with their own special snuggery.
Service Offerings
Retreat NESTing - Dog Day Boarding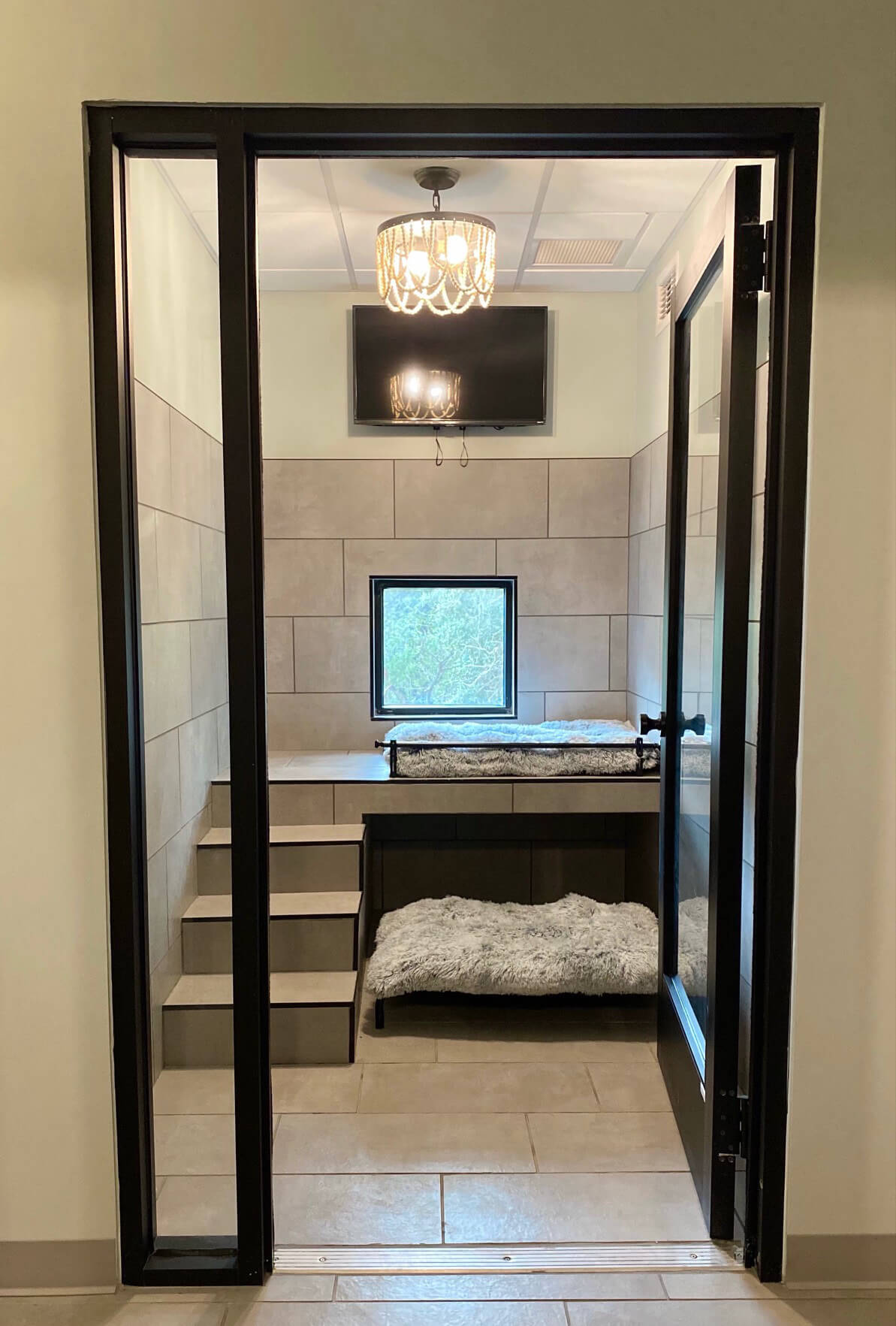 This style of day boarding, or as we call it Retreat NESTING, is for dogs that just need a day out of the house to relax or day board.
Overnight Dog Boarding
Each dog will NEST in a glass-fronted, posh and spacious run (our version of dog boarding) in one of our three neighborhoods, The Live Oaks, The Elms or The Tree House. Dog NESTs feature elevated dog beds, soft bedding, music and hypoallergenic dishes. Overnight dog boarding includes afternoon dog daycare activities and medication administration if needed*.
Enhanced Luxury Overnight Dog Boarding
Enhanced luxury overnight dog boarding allows dogs to NEST in a private enclosed glass-fronted enhanced suite in The Magnolias Neighborhood. Private dog boarding suites feature elevated beds, plush bedding, soft blankets, a raised platform shelf to watch goings on or nap, clinically proven dog-relaxing music, and individual televisions set to their favorite station. Enhanced Luxury Suites are available with interior views or outside views. Overnight dog boarding includes afternoon dog daycare activities and medication administration if needed*.
Enhancements Available for Dog Boarding Retreat Stays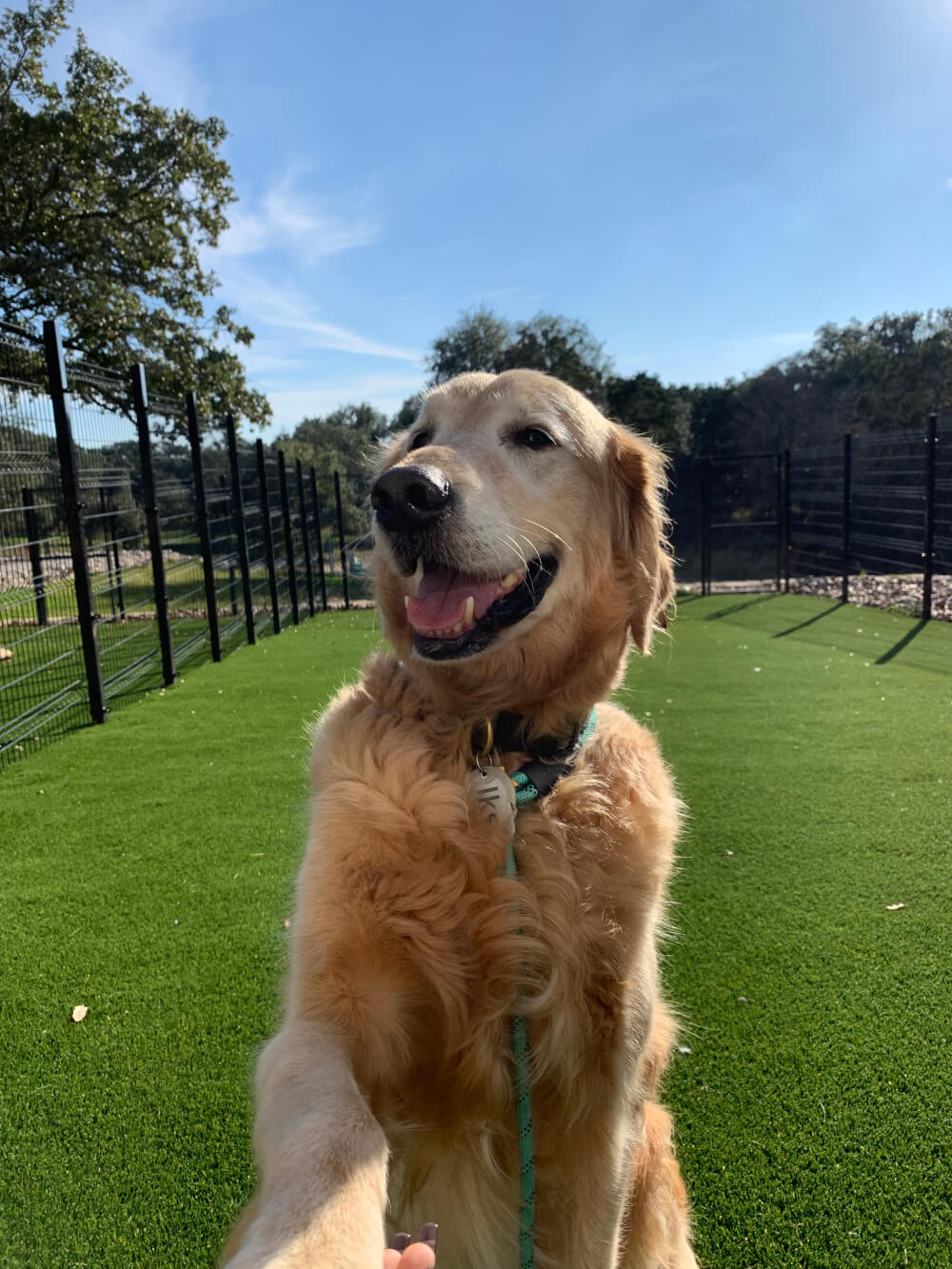 Bedtime Tuck-In and Story
Massage
Cuddle Time
Pamper Brushing
Minibar Treat Assortment
Puzzle Toy
Private Dinner Date
CBD Bedtime Treat
Luxury Bedding Enhancement
Additional Playtime Sessions
Additional Handmade Snacks
Mid-Stay Updates, Includes: Video, Additional Daily Text Photos
*Medication Administration (Over Two Included Administrations), Injectable Medication Administration
Qualifications and Necessities for Dog Boarding
Vaccine/Testing requirements:>

Rabies vaccine
Bordetella vaccine
Influenza vaccine
DHPP-L vaccine
Vaccines must be given by a Veterinarian
Negative fecal parasite examination within the last year
Current on flea and tick prevention

All dogs must be spayed or neutered by 6 months of age to participate in the dog playcare
Dogs must be free of external parasites. If parasites are observed on your dog, parasite preventative will be prescribed from the veterinary practice with which we consult in order to eliminate the parasites and help your dog feel more comfortable and prevent facility infestation.
Bring your dog's medications in original labelled containers
Bring your dog's food pre-bagged by portion for each meal to prevent gastric upset ***No Raw Food Will Be Fed During Pet's Stay at The Retreat for Everyone's Safety***
Please do not bring bedding or dishes for dogs or cats. These are provided for your pet and are hypoallergenic.
For information on prerequisite forms for dog boarding, click here.