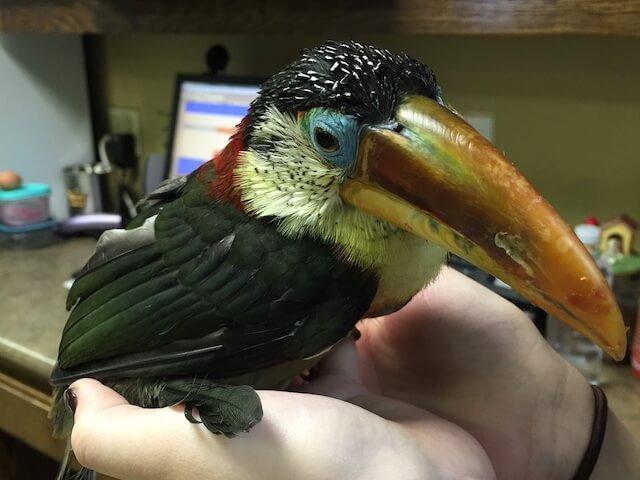 Your extraordinary pets have different needs than traditional pets, and we are specifically trained to provide their care. We treat species ranging from birds to reptiles, small mammals to mini-pigs, to primates. Whether you're an owner looking for the best care for your pet or a veterinarian looking to refer your exotic patients for care, we're here for you at both Northern Oaks Bird & Animal Hospital and Heritage Oaks Animal Hospital.
As animal hospitals also dedicated to the care of exotic and avian pets, you can count on us for all of your pet's special needs. Whether you require a wellness examination or a complex surgical procedure for your exotic companion, we can handle it. Education is an important part of what we do, too. The better you understand your pet, the better you can care for them! We continually seek additional emerging insights into exotic species to better our understanding of how we can enhance their health.
Our exotic veterinarians, Dr. Byrd and Dr. Ramirez, have both worked extensively with exotic and avian veterinary pets and have access to resources for specialist advice when it is needed. We provide exceptional care for exceptional pets and the people who love them.
Contact us at Northern Oaks Bird & Animal Hospital or Heritage Oaks Animal Hospital to make an appointment for your exotic pet.
Services Provided
With such in-depth experience, we're able to offer extensive services to you and your exotic animal friends including:
Wellness examinations
Life stage care (including neonatal counseling and senior care)
Comprehensive diagnostics
Advanced dental care
Soft tissue surgery
Spay and neuter
Nutritional counseling
Husbandry, care and diet evaluations
Boarding
...and much more
We are proud to care for the following exotic species:
Exotic and avian species are widely varied, making them some of the most difficult pets for which to find expert veterinary care. Our team of skilled veterinarians is well-versed in many different species and our expertise covers an array of reptiles, birds, and small mammals.
Listed below are some of the common species we see. This is by no means a list of species we only see, just the most common pets. If you have a pet not on this list, please feel free to contact us and ask if we can service them.
If you do not see a species listed that you need care for, please contact us to inquire.
NOTE: We do not provide service for any toxic or legally prohibited species.
Boarding
We are pleased to offer specialized overnight care and accommodations for birds, reptiles, rabbits, rats and other exotic pets. We have the knowledge and resources to access information for each species and are pleased to offer overnight care for exotic pets at Northern Oaks Bird & Animal Hospital. We have also created a specially curated space at NEST Pet Retreat • Playcare • Spa to assure each pet will be able to be lovingly cared for in the manner that best enhances their stay.
We are members are the American Association of Zoological Veterinarians (AAZV) and the Association of Avian Veterinarians (AAV), and Association of Amphibious and Reptile Veterinarians (ARAV).
Please contact Northern Oaks Bird & Animal Hospital or NEST Pet Retreat • Playcare • Spa for specifics of their housing and diet needs during their stay with us.