Cat Accommodations
We are an American Association of Feline Practitioners (AAFP) Certified Cat Friendly Practice. Cat Friendly Practices meet standards for optimum feline care and creating a stress reducing cat-friendly environment. We understand their special needs and are dedicated to maintaining the cat friendly standards. Our feline boarding area is for cats only to ensure peace for the kitties. Each enclosure contains a hiding cubby for perching, sleeping or cuddling up. We also utilize Feliway pheromone diffusers to help alleviate anxiety. As an added bonus, all cats who board with us receive a complimentary nail trim.
What Does My Cat Need in Order to Board?
Rabies Vaccine
FVRCP Vaccine
They must also have a current negative FeLv/FIV test to ensure they are free of communicable diseases for the health and safety of all of our feline boarders. ?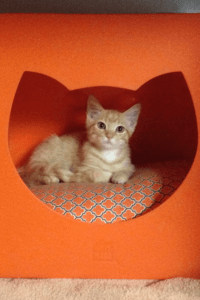 We offer playcare and overnight vacation boarding at both Northern Oaks Bird and Animal Hospital and at NEST Pet Retreat • Playcare • Spa.
At Northern Oaks Bird & Animal Hospital, all pets are assessed by a technician and receive a complimentary nail trim. If fleas are located, cats are treated immediately so your pet will never contract parasites here. They are monitored closely for appetite and activity during their stay with us. Please feel free to visit with your pet at any time.
Our climate-controlled facilities remain clean and orderly at all times. Our practice provides comfortable washable bedding. Maybe your cat has a favorite toy that would make him or her feel more at home. Our condos have plenty of room for your cat to move around and make themselves comfortable. We even have adjoining condos for pets in the same family.
We provide excellent nutrition, or you can bring food from home so that there is no change in your pet's diet while away from home. We know that sometimes change is stressful and your pet may not want to eat, so it might be a good idea to bring along some treats to make their food seem more desirable.
Our practice is well equipped to handle any ongoing medical needs your cat may have. We regularly administer oral medications, breathing treatments, IV or injectable medications and fluids. We also address individual feeding needs. We monitor your cat the entire time he or she boards with us. Should your kitty become sick or injured, feel confident we will attend to your cat immediately and communicate with you about the issue.
If you have never boarded your kitty before, we invite you to come and tour our facility. We want to ensure that we are the right match for you and your cat. We want you to feel comfortable with the level of care and attention we provide and we want your pet to feel comfortable while you're away.